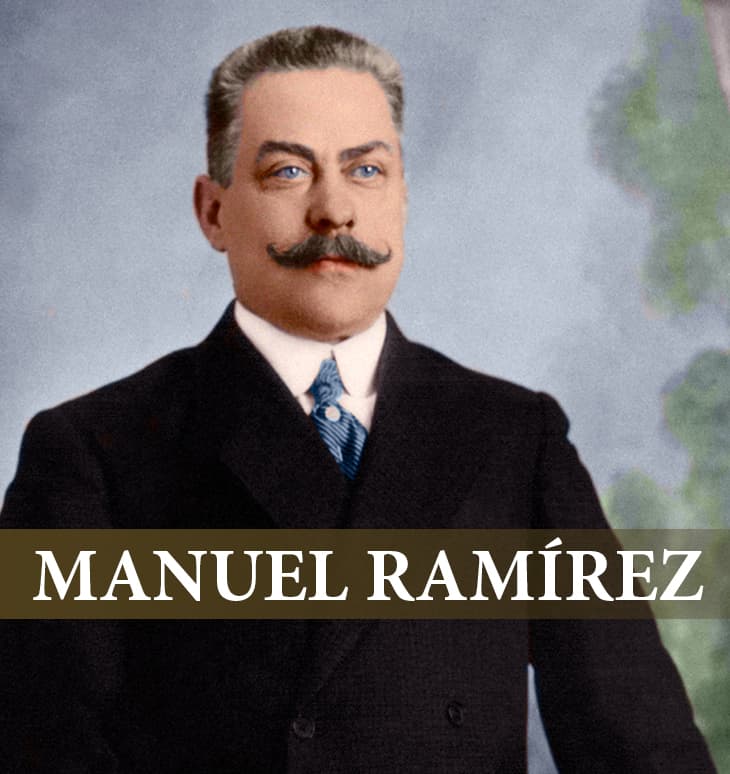 In 1864, Manuel Ramírez de Galarreta y Planell was born in Alhama de Aragón. Although the family's habitual residence was Madrid, the father's profession led them to reside for some time in that town.
Manuel learned the trade of guitar maker from his older brother (José Ramírez I). At the age of 27, back in 1891, he decided to become independent.
At first, his idea was to settle in Paris, and by communicating this to José, he helped him to carry out his project. But it is not known the reason why Manuel changed his plans and ended up settling at Plaza de Santa Ana and later at calle Arlabán both in Madrid, which sowed enmity between the brothers without being able to clarify the situation in life.
He was appointed luthier at the Real Conservatorio de Madrid and he was honored to repair the Stradivarius quartet of the Royal Chapel . He also continued the school started by his brother.
The guitar makers that he formed, when they became independent, were recognized among the best builders of the time. These disciples were Santos Hernández, Domingo Esteso and Modesto Borreguero.
Given the success of the "Tablao Guitar" designed by his brother José, Manuel continued to build it, but little by little he developed his own template, until he achieved a flamenco instrument that continues to serve as a model for this type of guitar and that his disciples continued to use.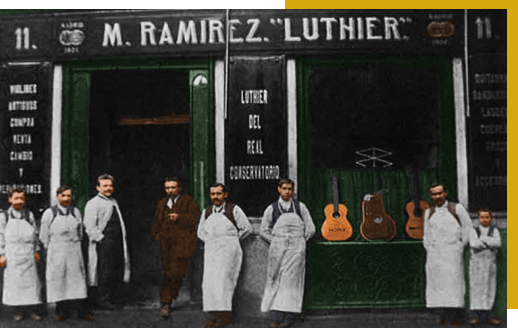 After some time in Calle de la Cava Baja, Manuel moved his workshop to Plaza de Santa Ana nº 5 and later to Calle Arlabán nº 10, where he settled definitively.
Back in 1912 there was one of our best known anecdotes. A somewhat extravagant-looking guitarist entered the workshop on Calle Arlabán with the intention of renting a classical guitar. Manuel was amused by the proposal and decided to go along with it out of curiosity.
He left him a guitar to try, meanwhile he continued his conversation with José del Hierro, a violin teacher at the Conservatorio Superior de Madrid.
Both became engrossed with the young guitarist's way of playing, so much so that the teacher tried to persuade him to give up the guitar and dedicate himself to the violin without achieving any success.
Manuel, who had been listening to the conversation, decided to give him the guitar as a gift on the condition that he that he made her famous by taking her around the world, knowing that in his hands the instrument would develop in a wonderful way.
This guitar is the one that is exhibited in the Metropolitan Museum in New York, which next to Manuel's label appears the label of the repair that Santos Hernández later made him.