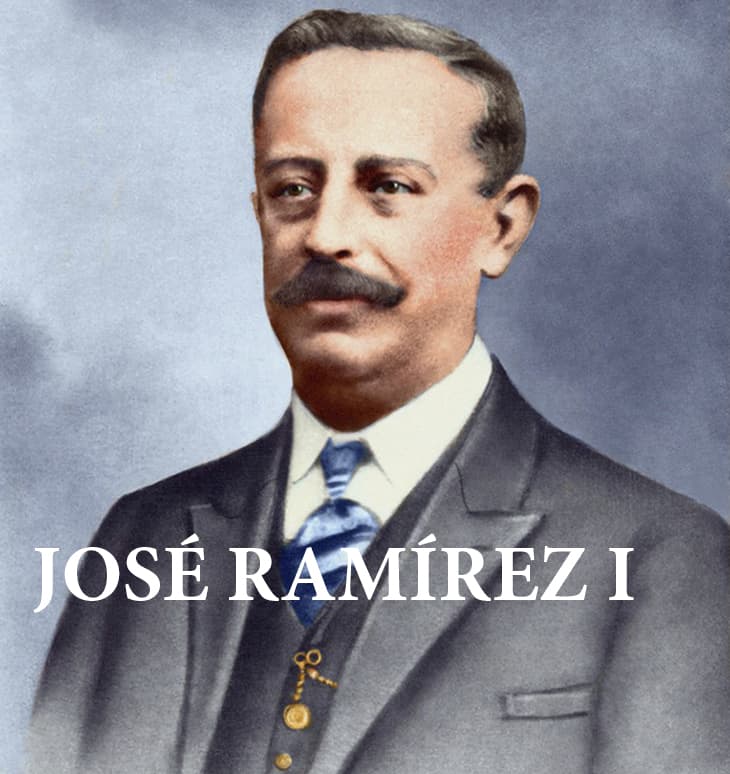 The founder of this dynasty, José Ramírez de Galarreta y Planell, was born in Madrid in 1858. At the age of 12 he entered the workshop of his teacher, Francisco González, whose guitar shop was located in Carrera de San Jerónimo of Madrid.
It must have been between 1880 and 1882 when José Ramírez I became independent, establishing himself in the Madrid Rastro as a master guitar maker.
Later, in 1890, he moved to Calle Concepción Jerónima number 2, where his descendants continued until 1995. Currently, the store is located on Calle de la Paz No. 8, very close to the old premises.
Once independent he became the mastero of his younger brother, Manuel Ramírez, and later of his son José Ramírez II. He also trained Antonio Viudes, Rafael Casana, Alfonso Benito, Julián Gómez Ramírez and Enrique García.
The latter established himself on his own in Barcelona where he became Francisco Simplicio's master.
José Ramírez I became a fundamental part of the so-called Madrid School of Guitar Builders since, at that time, he was the most outstanding guitarmaker master of his time after the wake of Antonio de Torres.
The flamenco guitarists of the time came to him to find solutions to the small sound projection of the guitars that were built in those days, and that could not be heard in the tablaos and cafes cantantes. This is how José I created the so-called "Guitarra de Tablao".
This model was taken as a basis by his brother, Manuel, to later modify it and transform it into one of his templates, establishing with it the principles of what we now know as flamenco guitar and which his disciples continued to use.
As a curiosity we can say that one of the Ramírez guitars that belonged to Agustín Barrios, exhibited at the Cabildo de Paraguay, has the same template as the "Guitarra de Tablao".